If you've ever looked closely at a potential plant for your landscape or spent time discussing horticulture with likeminded people across the internet, you may have come across the USDA system of Hardiness Zones.
Plants can be described as 'Hardy to Zone 10' or 'Hardiness Zone 10', but what does this mean for the plant and how does it affect where you can use them?
The system of Plant Hardiness Zones was developed by the United States Department of Agriculture and, put simply, is a geographically defined area in which a specific category of plant life is most likely to thrive.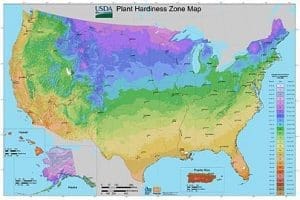 How are the zones defined?
USDA Plant Hardiness zones are defined by the average lowest temperate during the winter in that region. Our head office in Parley, Dorset (UK) is classed as Zone 9 in the USDA and states that the average lowest temperature we face is -6.7 degrees Celsius.
However, an area such as Miami, Florida, (USA) is Zone 10 where the lowest average temperature is only -1.1C.
This enables people all across the world to understand whether plants can handle specific areas of the world. Landscapers in our local area know that they could use a plant hardy to Zone 7 (-17.8C) without fear of it perishing in the winter cold. Tulips for example, can be planted in as low as Zone 4.
Drawbacks
Whilst the USDA system of plant hardiness zones is well adopted across the world, it's not without its drawbacks. The system only takes into account the extremes of winter temperature without consideration to the other parts of the climate. There is no indication of humidity, snow cover or summer heat.
This is easily explained by pointing out that the majority of Texas, USA is also a USDA Hardiness Zone of 9. The exact same as we are in the south of the UK. However, anyone familiar with both climates will attest to how dissimilar they are. Similarly, Sochi (Russia), Madrid (Spain) and Belfast (Northern Ireland) are also USDA Zone 9; all with varying environments.
Whilst average winter temperature may be similar, summer heat, duration, humidity, snow cover and even day length is completely different. All of these factors and more need to be taken into account for a plant to thrive in a specific area.
USDA Plant Hardiness Zones are not a definitive guide but a helpful extra bit of information to use in conjunction with other information such as 'Indicator Plant Species', geographic information and local information.